Awnings come in all shapes and sizes. Continuing with the theme of outdoor spaces, I have been exploring getting an awning for our own home and have discovered there is a lot to consider.
Once we decided that an awning would solve some of our rain and sun issues, I have noticed awnings everywhere.
I like the style of these awnings. The color of the house is similar to ours and this would look nice. I also like the scallop and contrast banding. I like how they are mounted high above but still come down low enough to give protection. But would I like looking at the dark red from the inside? Would the open sides shield us from the rain on our windows?
Blue is pretty but the straight tight bottom is a bit plain and better for a contemporary look.
I always thought a patio sheltered by an awning was charming. Add drapery panels and it becomes a really special outdoor room, instantly.
In doing some research I have found so many different styles, from contemporary to traditional.
When I looked up awnings on
www.Houzz.com
, I expected to find a variety of canvas awnings but it turns out that awnings come in a lot of materials.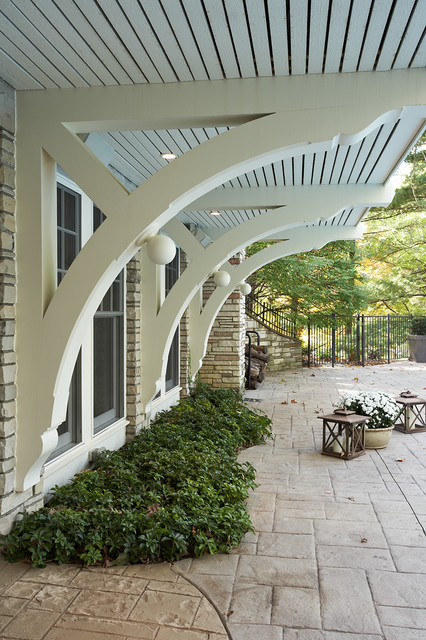 Although my focus is on canvas awnings this style with barrel tile is the perfect accent to our Mizner style home. It would be permanent and we would not have to worry too much about it blowing away in a hurricane, nor would we have to take it down beforehand and have it rehung afterward. Still cost is a consideration.
In addition to looking on
www.Houzz.com
I did some real life research by driving through local neighborhoods and found some excellent examples of what I am looking for.
We have a clerestory window above our sliding door in our living room. We have been plagued with leaks for years but we think we have it licked. However since we have no overhang on our roof on that side of our home, a contractor said that there is no guarantee that we wouldn't have another leak at some point down the road. Our goal in installing an awning is to ward off the rain, which, in South Florida, can blow sideways! A secondary benefit is that it will keep out some strong sun too.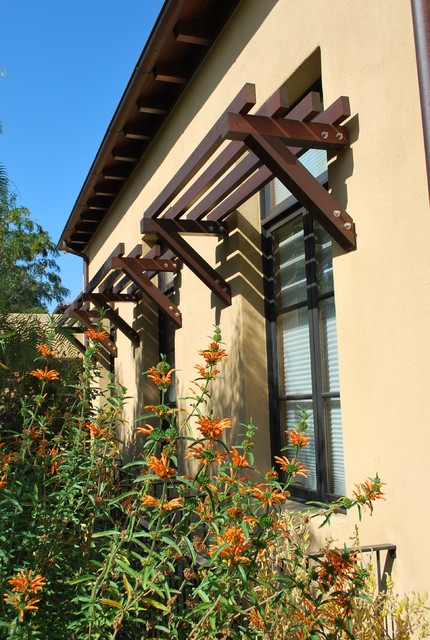 I like this awning because it lets in light but it is not practical for our situation, is it?
But, I must confess, this whole project is also going to allow us to replace our old carpet with beautiful new hardwood floors! And that will be followed by another decorating project, our living room.
It is also important to think about what the awning will look like from inside the house. I will miss looking up at the palms, blue sky and starry night sky, but I must keep the my eye on the prize..... our new hardwood flooring.
A lighter color makes the room inside brighter. A stripe could work if it was not too bold, and though a darker color might look better from the outside, would it make the living room too dark? And how would stripes look from the inside?
These awnings are retractable which is a great idea but would not work for our project.
They are not rated for winds over 40mph when open and are very pricey.
We are only considering a 3 foot awning to cover about half the height of the upper window so as not to block too much light.
Here are a few more awnings I spotted on a driveby shoot on a rainy day. I am now very taken with awnings on houses. I never realized how popular they are and so charming too.
This one actually creates a front porch. and the next one becomes a covered entry.
The house on the right has two styles. The lower makes a covered entry and the upper windows are covered by Bahama shutters that not only shield from the sun but can be lowered completely for storms.
Below the green awnings highlight a sun porch and really add charm to the style of the house.
And what about those yellow awnings! How fabulous theylook. Even on that rainy day they brightened up everything. But I wonder if they give a yellow glow to all the rooms inside kind of like when you put a yellow buttercup flower under someones chin. If it reflects yellow it means they like butter!
These last three pictures above show a nearby home in a light gray color, sparkling white roof, shutters and front door. The awnings are white with gray banding set slightly above the edge. I really love that look. What do you think? Would that work for our house? We could have white awnings with beige or even terracotta banding. It would be simple, and classic and would probably pass the architectural committee's approval.
Here are photos of our patio and the subject window and slider. What do you recommend? What color and style do you suggest? Solid with a trim? A stripe? Dark or light? The house is beige, the roof terracotta barrel tile, the patio is terracotta and the window trim, columns in the front and front door are white.
I look forward to your comments and suggestions!